Sydney Indie Film Festival – Where Do We Go From Here – Sunday 18th October 6:30PM – Romantic Comedy
Feature Film:
Where Do We Go From Here? (United Kingdom)
"What is the appeal for a 25 year old to live in a care home?" This is the question; dejected nurse Jen asks when she joins the ranks at the "Easy love care home". She is surprised to find a 25-year-old man (James) living and working in the care home.
James and his three, elderly best fiends hatch a plan to go on one last adventure and the only medical cover they can get is the one person who doesn't want to be around old people. Will their plan go off without a hitch or is there a sell by date on adventure?
Director: John McPhail
Cast: Tyler collins, Lucy-Jane Quinlan, Alison Peebles, Richard Addison, Maryam Hamidi, Deirdre Murray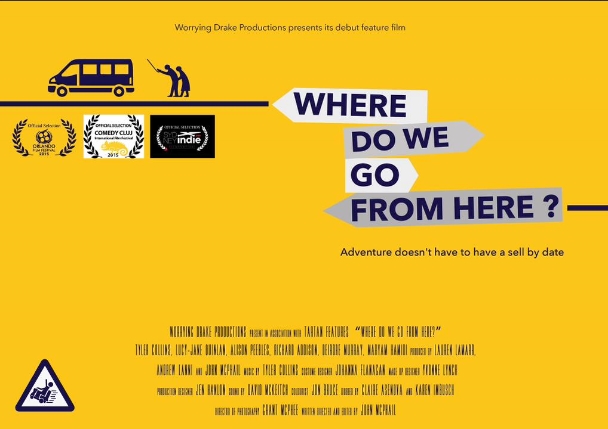 Short Films:
The Dog Walkers of Buenos Aires (Australia)
The art of walking 25 dogs at once and a 4 wheeled bicycle for our 4 legged best friend: the untold story of the Dog Walkers of Buenos Aires.
Director: Peter Wilson
The Idea of Growing Old (USA)
Ellen best friend is too young to get married; or at least she feels too young to let him. In the dressing room before the wedding she scoffs at his oh-so-mature future bride while reminiscing on their much more genuine teenage escapades.
Director: Alyssa Stratton
Key Cast: Heather Bowling
BUY TICKETS: