Sydney Indie Film Festival – Short Films "Albedo Absolute" "Labels" "Muscles" "Night Light" "Rainbow Girls"
"Remarkable" "Spill" "Some Sweet Oblivious Antidote" "Tanguito Argentino" + Q&A with Filmmakers!
Epic Shorts – Sci Fi, Fantasy, Anymations, Family Stories!
Sunday, 24th of September 2017
Time: 2:00PM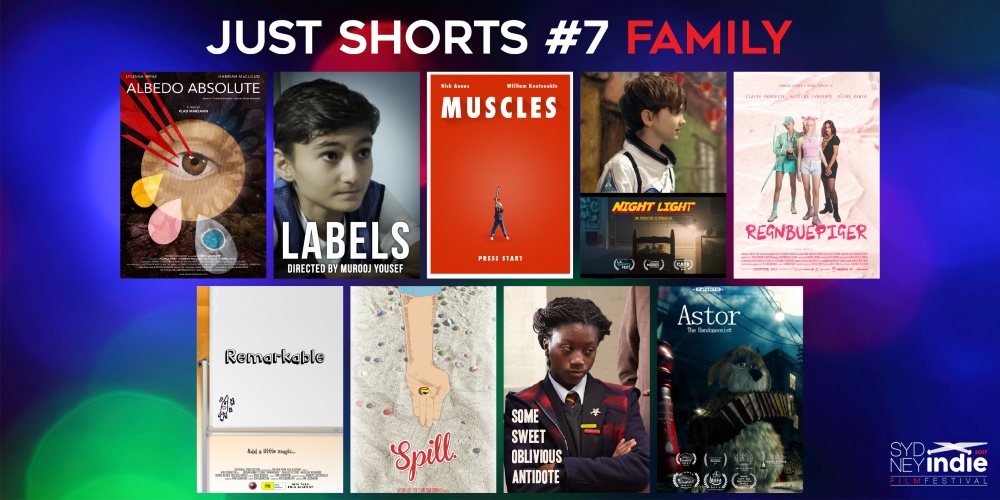 Albedo Absolute (USA)
Director: Vlad Marsavin
Cast: Gabriel Olds, Boti Bliss, Hannah McCloud, Lyliana Wray
Synopsis: ALBEDO ABSOLUTE is a fairytale adventure of Violet and Savannah, two sisters who disobey their parent's warning by venturing into a brooding forest. There, they discover a large plug wedged into the forest floor. What lurks beneath the plug? The girls cannot resist finding out. Their curiosity sends them down a kaleidoscopic drain pipe and into a strange and startling journey of no return.
Labels (AUSTRALIA)
Director: Murooj Yousef
Cast: Abdelrahman Yousef, Joshua Messmore
Synopsis: Sami a 13-year-old Syrian refugee is adjusting to his new life in Australia with his mother, while his father remains in Syria. He faces some difficulties fitting in the new environment at school. This leads to a fight with a troublesome classmate named Oliver. To avoid expulsion the two boys must exchange daily diaries. This leads to the blossoming of a friendship between Sami and Oliver and a place where Sami belongs.
Muscles (AUSTRALIA)
Director: Genevieve Kaiser
Cast: Nick Annas, William Koutsoukis, Kelly Robinson
Synopsis: While awaiting a visit from his father, Zac retreats into his 8-bit, 2 player realm of adventure with his companion Muscles, the hero from his favourite video game. As they wait, both begin to question how the arrival of Zac's father may impact their relationship. When a package arrives in place of the man itself, Zac begins to reconsider the heroes in his life.
Night Light (USA)
Director: Ryan Oksenberg
Cast: Harmony Smith, Elliott Smith, Brandon Calvillo
Synopsis: Grappling with being on his own without his mother, a boy invents a way for the sun to always be up. Featuring Vine's mother and son duo Harmony & Elliott Smith (1M followers) and Brandon Calvillo (6.3M followers).
Trailer: https://www.youtube.com/watch?v=SQOGKSGiKec
Rainbow Girls (DENMARK)
Director: Zinnini Elkington
Cast: Alvilda Lyneborg, Flora Xenia, Claire Pondevie, Rasmus Kolbe
Synopsis: 'Rainbow Girls' is a stylized comedy about friendship and identity. Bloome, Kara and Mynte are the colorful outsiders in a monochrome ninth grade. Bloome is determined to win the annual lip sync battle, and the respect of the class. But when her friends start to change, Bloome's plan starts to crumble. Their performance is a failure and Bloome flees the stage, devastated to have lost her friends. But in the end – friendship comes in many colors.
Remarkable (AUSTRALIA)
Director: Kim Lodington
Cast: Jordan Abbey-Young, Charlotte Stent, Madeline Rushmore, Sophie Keable, Melissa Haydee
Synopsis: Elise is a dreamer with ambition, and supported by her best friend Mark, overcomes each of the challenges of growing up as an outcast. She is drawn to math, physics, and a love of the stars – when she sets her sights on applying to Cal-Tech, and the NASA space program, can she move beyond the trappings of being an outcast Australian girl, to become the mission specialist she's always dreamed of being? Who can tell? Certainly not Mark – plus it's pretty hard for him to explain… seeing as he is a whiteboard.
Trailer: https://www.youtube.com/watch?v=A8LoJtZCqdI
Spill (AUSTRALIA)
Director: Aaron Ellis
Cast: Samuel Edwards, Ellmir Asipi, Grace Rosebirch, Lester Ellis Jr
Synopsis: It is 1999 at West Meadows Primary School and the marble craze has hit an all time high. Maxy, through his good sense of judgement and likability has scored himself a decent marble collection and has become a force in the sandpit. School bully Plugga catches wind of Maxy's growing collection and the fact that it is beginning to threaten his position as marble leader. With this newfound knowledge, Plugga devises a plan to stop Maxy in his tracks. Will Maxy overcome Plugga or will he fall victim to his antics like so many before him?
Some Sweet Oblivious Antidote (UK)
Director: Christiana Ebohon
Cast: Sir Lenny Henry, Wumni Mosaku, Colin Salmon, Arinze Kene, Fatima Koroma
Synopsis: When 13 year old Ivie (Fatima Koroma) starts speaking in Shakespearean verse her friends find it weird and her mother (Wunmi Mosaku) is outraged. She takes her to church to be 'cured' but when Ivie calls the Paster (Colin Salmon) a vile toad her mother seeks the help of a psychiatrist (Sylvestra Le Touzel). Even this fails to shift Ivy from her Bizarre behaviour. It is only when a therapist (Sir Lenny Henry) with an equally encyclopedic knowledge of the bard engages Ivie in a Shakespeare face-off on the stage of the National Theatre that the reasons for Ivie's obsession are uncovered.
Tanguito Argentino (ARGENTINA)
Director: Joaquin Braga
Synopsis:THIS IS THE STORY OF TWO POST LIGHTS DANCING UNDER THE MOONLIGHT BY THE BEAUTIFUL SOUND OF TANGO. THE STREETS OF "EL CAMINITO" IN BUENOS AIRES BECOME THE MYSTIC SCENERY WHERE SOME FELLOWS WILL PERFORM ONE OF PIAZZOLLA'S MASTER PIECES "FUGA Y MISTERIO" AND WILL BRING TO LIFE THE MAGIC AND PASSION OF TANGO.
Trailer: https://vimeo.com/185804718