Sydney Indie Film Festival – Sci-Fi Feature Film "Nephilim" + Short Films "8 Minutes" ""Hero" – a charity film project" "She Never Felt The Cold "
+ Q&A with Filmmakers!
Sci-Fi Night!
Tuesday, 26th of September 2017
Time: 7:40PM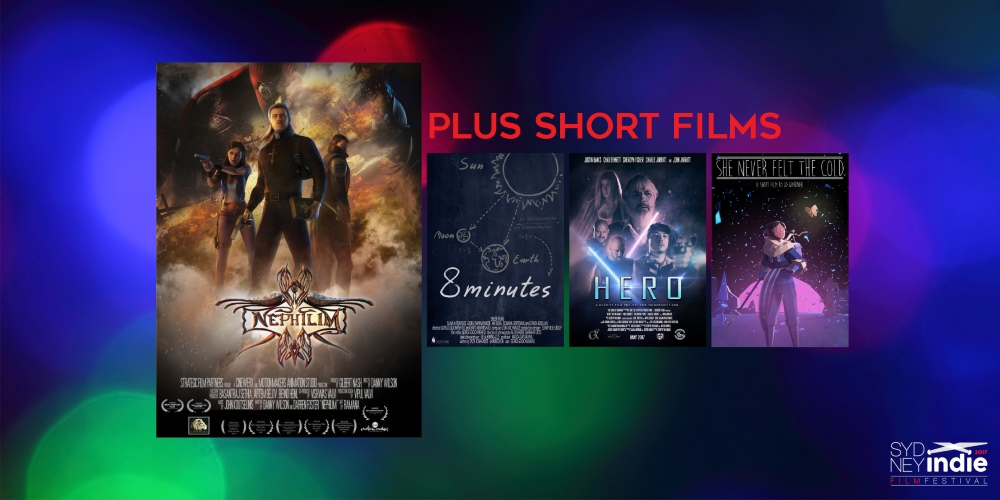 Feature Film:
Nephilim (USA)
Director: Danny Wilson
Cast: Ina-Alice Kopp, Victor Alfieri, Yuval David, Gulshan Grover, Noah Blake & Lana May
Synopsis: Nephilim is a supernatural action-thriller following an atypical young priest, Markus, into a mystical world of blended realities as he is cast between the ultimate confrontation between good & evil.
Trailer: https://vimeo.com/218196791
Short Films:
8 Minutes (GEORGIA)
Director: George Gogichaishvili, David Abramishvili
Cast: Slava Natenadze, Giorgi Sharvashidze, Ani Bebia
Synopsis: After apocalyptic information leaks about the sun going out, meaning the earth will get dark in eight minutes, forever, chaos covers the whole world except for Gia – a single man under sixty with a boring, poor life. In this crazy moment he calls his son to ask how is he handling this situation, despite having a rare and cold relationship with him for a long while. But during the phone call Gia finds his son is in north pole for an expedition with his fiancée, and not aware of the coming total black out. Father hesitates to tell his son how the world is about to end and hangs up the phone. But he can't just sit and do nothing about it. After a moment he gets hit by an idea. Obsessed with clearly something more than just a call to his son again to inform him about the real apocalypse.
"Hero" – a charity film project (AUSTRALIA)
Director: Kerryn Williams
Cast: John Jarratt, Charlie Jarratt, Sheridyn Fisher, Chad Bennett, Justin Banks
Synopsis: In the quiet countryside of Yarramalong two quirky POLICE OFFICERS happen across a young woman seemingly terrified by an incident she had just witnessed. The OFFICERS invite the woman into the car just as a radio call comes through about reports of a crashed aircraft. Linking the radio report and the claims of the young woman the OFFICERS decide to investigate. It's not until the woman claims that it may have been a "spacecraft" and that a man "walked out of the fire" that the two police officers form their doubts.
Trailer: https://www.youtube.com/watch?v=6yD-s7i75TI
She Never Felt The Cold (USA)
Director: JD Gardner
Cast: JD Gardner
Synopsis: A fishing girl sees something strange appear in her cold paper world.
Trailer: https://vimeo.com/205160317
Films introduced by Filmmakers followed by Q&A after screenings.