Sydney Indie Film Festival – Feature Film "Blank 13″ + Short Films "Magnus" "My Year With Suicide" "Shiver" + Q&A with Filmmakers!
Drama Thriller!
Monday, 25th of September 2017
Time: 7:40PM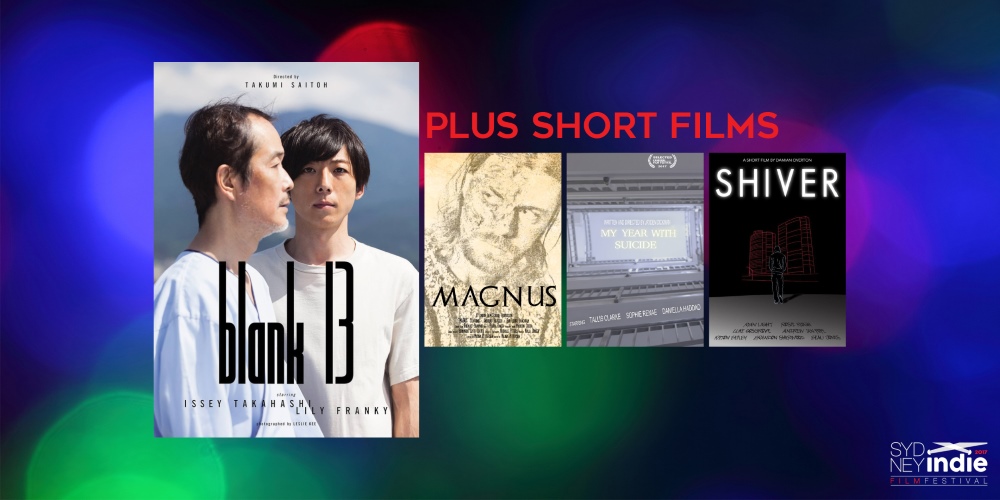 Feature Film:
Blank 13 (JAPAN)
Director: Takumi Saitoh
Cast: Issey Takahashi, Lilly Franky, Misuzu Kanno & Sairi Ito
Synopsis: Koji is bewildered by a sudden phone call from his brother telling him that he has located their father. You see, it has been thirteen years since their dad stepped out of the house never to return. Moreover, Koji is stunned to hear that their father has cancer and been given three months to live. When the inevitable day of their father's funeral arrives, Koji and his brother must confront both the thirteen-year blank created by his absence as well as a collection of odd acquaintances who have come to pay their last respects.
Trailer: https://www.youtube.com/watch?v=OlIZRDOBgGE
Short Films:
Magnus (UK/NORWAY)
Director: Melina Pettersen
Cast: Andreas Haaseth, Eva Louise Langholm
Synopsis: A deformed, mute hermit lives alone in the fjords of Norway. Tormented by the local villagers, he secludes himself from everyone until one day, a mysterious girl shows up on his doorstep.
My Year With Suicide (AUSTRALIA)
Director: Jayden Dickman
Cast: Tallis Clarke, Sophie Renae, Daniella Haddad, Timothy James Cooper
Synopsis: Plagued with self doubt and struggling to find a reason to keep on living, PhD student Michael sets himself a task. Everyday for an entire year he will keep a diary explaining all the reasons he wants to die. Should there be a day where he has nothing to write, he will give up on the diary and choose life; but should he make it to the end of the year with an entry for every day, he will give up on life instead.
Shiver (AUSTRALIA)
Director: Damian Overton
Cast: Ryan Light, Rosie Keogh, Luke Cosgrove, Kieton Beilby, Andrew Ian Pope, Beau Jones, Brandon Sherwood
Synopsis: "In the darkness of the night, Riley returns to the broke down and desolate part of the city he once inhabited. Riley, a young drifter, searches for a new future among the violent and unforgiving ruins of the past."
Trailer: https://vimeo.com/205497052
Films introduced by Filmmakers followed by Q&A after screenings.