Sydney Indie Film Festival Opening Night Events – Adventure For All Dog Lovers - Feature Film "Bitch" + Short Films "The Apocalypse will be Automated" "Whoever Was Using This Bed" + Q&A with Filmmakers!
Red Carpet Arrival: 7:10PM
Monday, 18th of September 2017
Time: 7:40PM
Films introduced by Filmmaker Csaba Bene Perlenberg (BITCH), Melanie Killingsworth (THE APOCALYPSE WILL BE AUTOMATED) followed by Q&A after screenings.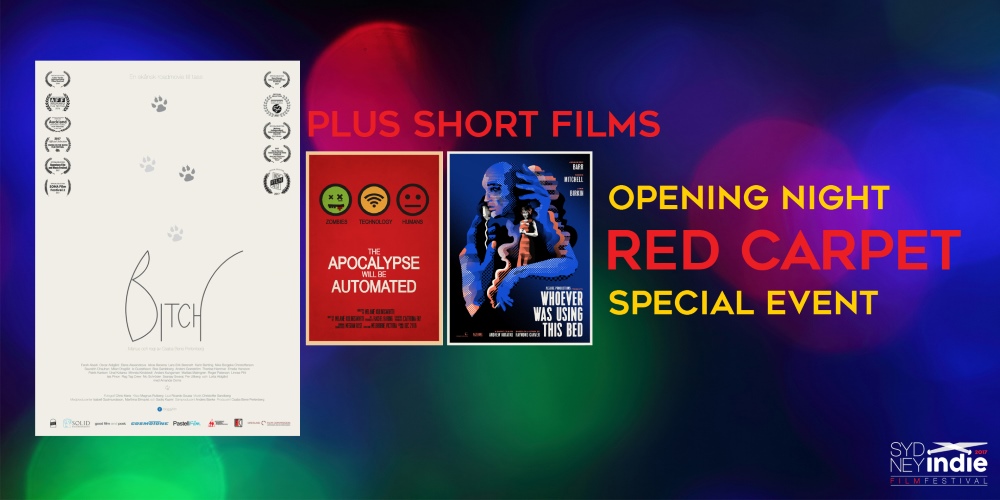 Bitch (SWEDEN/INDIA)
Director: Csaba Bene Perlenberg
Cast: Amanda Ooms, Lars-Erik Berenett, Nic Schröder, Anders Granström, Milan Dragisic, Per Ullberg, Karin Bertling, Mattias Malmgren & Nike Borgeke Christofferson
Synopsis: A stray dog from the alleyways of New Delhi finds itself transported to Sweden, where she is thrust into a series of interactions with some pretty colorful people. And in the end, perhaps there's a reason life brought her there.
The Apocalypse will be Automated (AUSTRALIA)
Director: Melanie Killingsworth
Cast: Jessica Tanner, Johnny Carr, Dushan Philips, May Jasper, Sophia Davey
Synopsis: As a virus spreads through Melbourne in summer of 2021, a group of friends follow their pre-determined emergency plan and flee the city. But the plan relied on technology, and they discover technology may not be as helpful as they had hoped.
Will the machines side with the humans . . . or zombies?
Whoever Was Using This Bed (AUSTRALIA) 
Director: Andrew Kotatko
Cast: Jean-Marc Barr, Radha Mitchell, Jane Birkin
Synopsis: A married couple is woken in the dead of night by a mysterious phone call.
Unable to sleep, they are drawn into an unsettling examination of their fears and desires.
Based on a story by Raymond Carver (Birdman), WHOEVER WAS USING THIS BED is a multi-award winning short psychological drama starring Jean-Marc Barr (The Big Blue), Radha Mitchell (Man on Fire) and Jane Birkin (Blow Up).
Trailer: https://vimeo.com/122571165
Massive Prize Packs for Film Fans
Just purchase tickets to any two separate Sydney Indie Film Festival sessions at Event Cinemas George St Inaugural Festival Space and hand your tickets over be in the draw to win one of 5 amazing Prize Packs from extraordinary local businesses!
3 x "I LOVE INDIE FILM" prize packs valued at $300:
Double Movie Pass for Event Cinemas George Street
Breakfast for 2 by Dachshund Coffee Hunters Hill
$50 Gift Voucher by The Bayview Hotel Gladesville
$150 Microdermabrasion Treatment by Pure Rose Bay
2 x "GET ME INTO INDIE FILM" prize packs valued at over $1000:
10 Week Term of Part Time Advanced Level Acting Class from Screen Actors Workshop, $525 value
Personal photo shoot and 3 Professional Retouched Head Shots from Action Creative, $500 value