Sydney Indie Film Festival Feature Film "The Orchard" + Short Films "Beyond the Bubble" "Mug Shot"
"Three of A Kind" "War In Heels" + Q&A with Filmmakers!
Romance Comedy & New Homes!
Sunday, 24th of September 2017
Time: 6:00PM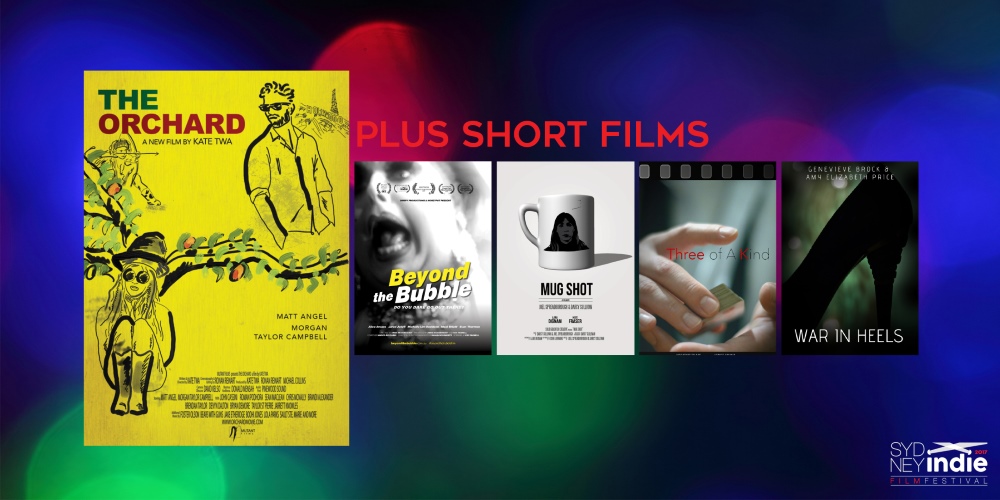 Feature Film: The Orchard (CANADA/USA)
Director: Kate Twa
Cast: Matt Angel, Morgan Taylor Campbell, John Cassini, Sean MacLean, Chris McNally, Brandi Alexander & Brendan Taylor
Synopsis: Brash Los Angeles talent agent Max Roth unexpectedly inherits a small peach orchard from an eccentric Aunt – in Canada. Max travels to British Columbia's Okanagan Valley expecting to make a quick sale to foreign developers and move on. His life changes as he becomes enchanted with the countryside, the old house, and a firebrand activist named Olive who is hell-bent on stopping the sale.
Trailer: https://vimeo.com/174438260
Short Films:
Beyond the Bubble (AUSTRALIA)
Director: Anna Hildebrandt
Cast: Alice Ansara, Jared Jekyll, Michelle Lim Davidson, Maxi Shield, Evan Thornton
Synopsis: As rents skyrocket in the inner city, three friends must contemplate life outside their 'bubble'. Do they dare go out there?
Trailer: https://vimeo.com/209847672
Mug Shot (AUSTRALIA)
Director: Darcy Sullivan, Joel Spreadborough
Cast: Lara Dignam , Kate Fraser
Synopsis: Gemma's morning ritual is sacred; an uninterrupted and therapeutic period of calm and solitude featuring a steaming hot coffee- drank from her favourite mug. When her new housemate Bella moves in and begins using her mug, the ritual is shockingly interrupted. As things get worse, Gemma is left to consider her options and ask herself just how far she will go to reclaim her favourite coffee mug.
Trailer: https://vimeo.com/229941271
Three of A Kind (USA)
Director: Jorge Arana
Cast: Jeff Polaschek, Virginie Bresson
Synopsis: A short glimpse into the psyche of a man struggling with the fact that getting a second chance on love isn't always a possibility. So when he finds, "the one," he can't let her get away.
War In Heels (AUSTRALIA)
Director: Trent Cliffe, Lily Connor
Cast: Amy Elizabeth Price, Genevieve Brock
Synopsis: Emily, who after being dumped by Tom, attempts to take matters into her own hands with the help of her unwilling friend, Tiffany, who has a secret plan of her own…
Films introduced by Filmmakers followed by Q&A after screenings.