Sydney Indie Film Festival 2016 – Program Schedule Trailers & Tickets at Eventbrite!
Hello Filmmakers, Film Fans, Film Lovers!
Sydney Indie Film Festival complete program is up and ready and tickets are going fast!
The movies are super awesome! Yes, we keep saying this because they simply are super awesome, and the super awesome people who made them are coming, so you can all meet them and ask questions to find out all the secrets of how they made it!

The second edition Sydney Indie Film Festival will take place from the 10th till the 22th of October 2016 in various locations in Sydney including Gladesville, Leichhardt/Annandale and Darlinghurst/Paddington!
Watch the movies, meet the filmmakers and participate in the Q&A sessions to find out how they made all the magic happen!
We will welcome Filmmakers coming to the Sydney Indie for their film Premiere from Sydney, Melbourne, Perth, Canada, Romania, Sweden & USA!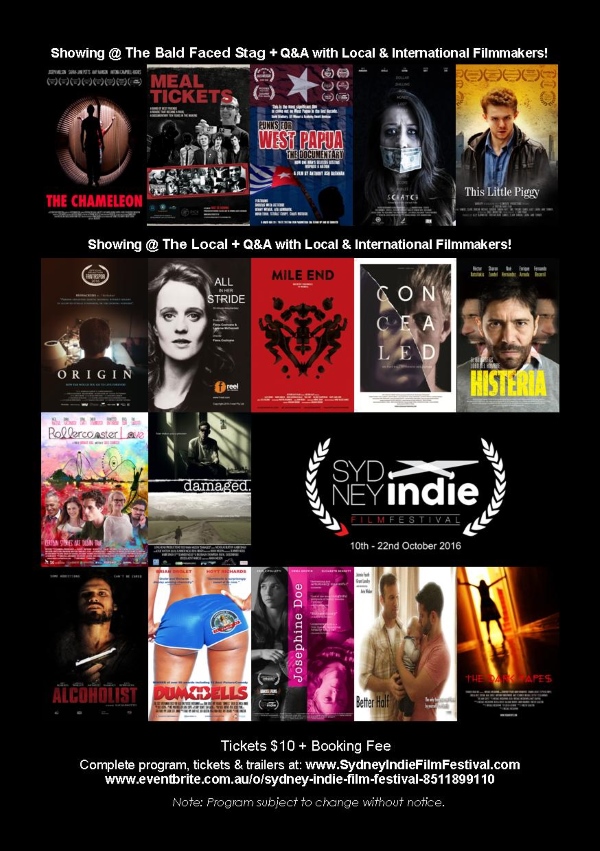 The Sydney Indie Film Festival will feature some of the best of independent cinema from around the world, including a mix of award winning films and outstanding emerging talent in the film industry.
The Festival program will screen all genres of films: action, adventure, comedy, family movies, chick flicks, science fiction, thrillers, true stories, animations, documentaries, there is something for everybody!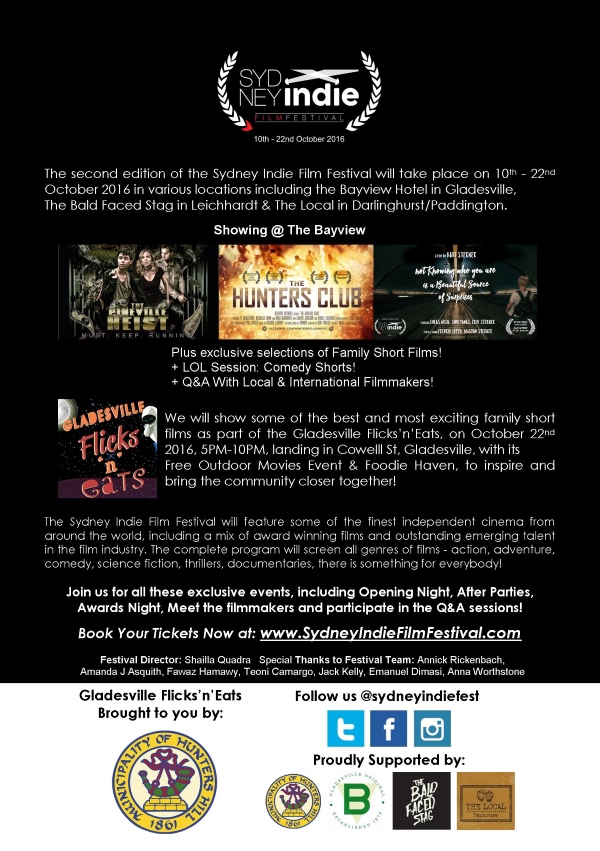 We are transforming many of Sydney's beloved favorite locations into cinemas to bring you the very best of independent cinema from all corners of the planet! To support filmmakers and bring the communities together!
This is super cool laid back Australian style fun, where we can relax and have a great time with our friends watching the best movies from around the world while enjoying a nice glass of wine with some big cheezy nachos (oh well, there will be salad too…) , and then pick the brains out from all the guests filmmakers asking all the questions about how they made it!
And hey, fear not, we are also having those lovely red carpet events, where we can all dress up and mingle with the stars!
Write down in your diary:
Sydney Indie Film Festival:
10-22 October
Locations:
Gladesville:
Screening Cinema Room @the_bayview
Plus as part of the Gladesville Festival Flicks 'n' Eats outdoor cinema event
22 October 5PM – 10PM
Cowell St Gladesville @discoverhuntershill
Darlinghurst/Paddington:
Screening Cinema Room @thelocaltaphousedl
Leichhardt/Annandale:
Screening Cinema Room @baldfacedstag
Thank you Sydney for supporting Independent Films!
2015: 62 Films, 20 countries, 8 days of film's events!
2016: Even better bigger bolder! We are screening 90 films!!! Yes, we love films!!!!
Come and join us!
Thank you everybody for being part of this amazing inspiring journey!
The Sydney Indie Film Festival mission is to unite, inspire & entertain, bringing opportunities for artists & great cultural events for the community.
Sydney Indie Film Festival Team